Balloon twisting and modelling in Oxfordshire, Warwickshire, Northamptonshire and Buckinghamshire.
Balloon twisting and modelling is a great addition to any party or special event! We create awesome balloon models of lots of popular characters, lots of wearable designs such as headbands and backpacks and guarantee to make your event memorable! Check out the balloon car Kerry made that has been going mad on social media! This was to celebrate Mercedes GP winning the 2014 Grand Prix championship!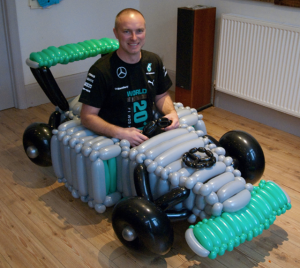 Whether you are looking for a balloon twister / balloon modeller at your party, Wedding, Christening, corporate event, festival or any other occasion you have come to the right place! Please see our
balloon modelling page
for more info. We can also provide balloon sculptures big or small to be delivered or collected. Our balloon modeller is  based in Banbury, Oxfordshire. Click on our
Balloon gifts
page for more info.