Parties that WORK right now!!
Covid 19 Friendly Parties and Party Alternatives!
With guidelines changing every week this is a temporary page that will be updated as to the parties we are currently offering and the options available in these crazy times. It will be updated to reflect the latest Government guidelines. This way you can see what is on offer and what we can do for you and your child whilst being assured that we are in keeping with what is allowed and therefore still fully insured for your peace of mind.
So what are the current rules?
Indoors:
Currently due to the rule of 6 we are only able to offer distanced Princess visits and online zoom parties. We have lots of other alternatives though!
Outdoors
As long as people stay in family bubbles and more than a meter away from each other then outdoor 'performances' can now go ahead. You will need to bear this distancing in mind however when inviting your guests to make sure they have enough space to comfortably move around whilst maintaining distancing. You also need to be aware that your event may be weather dependent. We will be able to continue under a marquee should you provide one in warmer months however your guests will still need to distance under the covering and so this needs to be considered when sending the invites. We would not be able to come indoors for any more people than the Indoor rules allow.
All parties and events we do will comply with our risk assessment which you are welcome to a copy of.
Breaking or bending the Government guidelines would have the result of our insurance being invalidated so sticking to them is in the best interests for everyone's protection and enjoyment!
Parties and Alternatives
Bearing the above in mind here are the options we are currently offering for both Covid 19 Friendly parties and party alternatives.
Currently only available online on zoom. Please enquire for more details.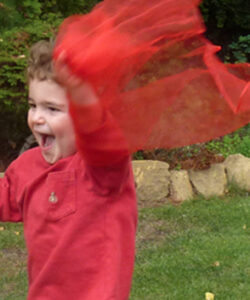 A fun mix of dancing and games with a short magic show. This was our most popular party pre-lockdown and we are pleased to have returned year after year to happy clients! Still as much fun as ever before!!
This party works well using some basic equipment which is thoroughly cleaned before and after each event. We suggest keeping guests below 15 to enjoy the full range of what is on offer though.
The party includes a special balloon gift for the birthday child and a balloon sword or wand for the other guests.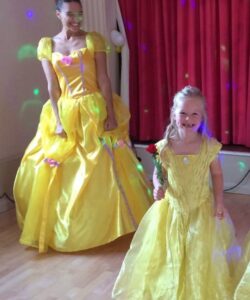 Your gorgeous Princess will visit your party and bring along the magic!! She will sing, encourage dancing, play some games and also do a small magic show! She will chat to the children and give the best Princess and Royal tips! The party includes a special balloon gift for the birthday child and a balloon wand or sword for the other guests.
Popular Princesses include:-
Ariel
Belle
Elsa
Anna
Rapunzel.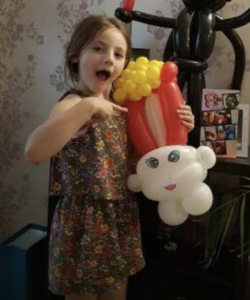 £100 for the first hour and £60 an hour after that.
Balloon Modelling is great fun and you will be amazed at our designs! we can make ANYTHING!!
Designs vary from quick 2 – 3 minutes models to massive eye boggling creations which may take 10 minutes plus, so we can make use of the time we have. We can also teach the children how to make their own balloon model if time allows too.
We also make sure there is a special pre-made balloon for the birthday child too!
Alternatives!
If you are not ready for a party entertainer this year to be there for your gathering, then why not consider one of these other great options!!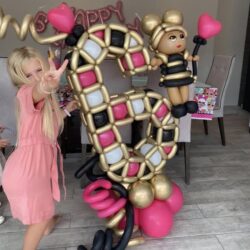 Imagine your child waking up on their birthday to a balloon number as big as they are, covered with all of their favourite characters!! Or a personalised elegant bubble balloon with your special message!
We have so many awesome balloon ideas, or just tell us yours! They will fill your space with colour and fun whether a small or massive design! Please see the balloons pages for more ideas or get in touch to see what we can do for you!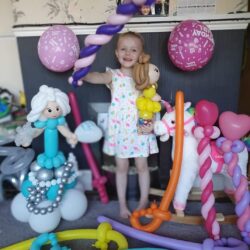 A massive grab bag of awesome balloon designs is a great way to delight and entertain your guests! A mix of designs, the same themed design, balloon sweet cups, balloon slapbraclets and so much more. Lots of ideas on our add-ons page here!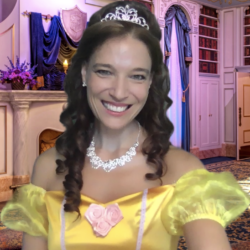 Although a Princess may not be able to visit at this time, we are excited to offer Princess video messages and chats!
We want to offer packages that would help celebrate a child's birthday and still make them feel extra special on their special day!
Not having a birthday party? THAT'S OK!
We have many video chat packages that are perfect options to just brighten your child's day or just bring a smile to their face with an enchanting bedtime story.
Live or Pre-recorded! It is up to you!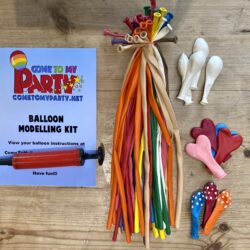 Learn how to balloon model yourself!! Our kits contain professional quality balloons, pump and links to clear fun instructional videos to make your own awesome creations! We have a short video explaining it all on the balloon kit page so head over and take a look!
We can also do balloon zoom parties where we teach the balloons live over a zoom call! This is a great way to involve all of the family who may be apart!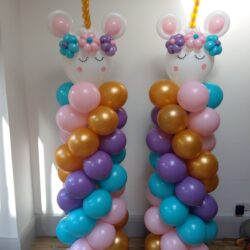 Balloon decor for your event big or small really gives the wow factor!!
Whether for a few helium balloon clusters to bring along to a meal out, or to decorate a wedding venue or special birthday, balloons make a massive difference! Check out the options on our balloon decor page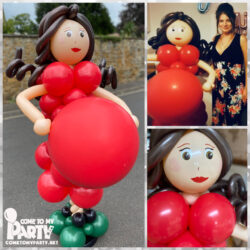 Want to make an announcement in a big way!? Our balloons have been used for gender reveals and even marriage proposals!!! Say congratulations, Happy Birthday, or just tell someone you love and miss them! We love hearing your ideas on how we can pass on a balloonified message!