Here is a guide to our Party Packages and Prices.
To making sure we give you as accurate quote as possible make sure you let us know:-
What you are after
No. of children,
Age and gender mix,
Date and time
Postcode.
Each Party is individual, however it helps to have an idea of packages and prices we can offer. Please do get in touch if your requirements differ! Prices are valid within 10 miles of Banbury. Over that we charge £1 per mile over that 10 mile boundary. ( So for 20 miles away we would charge £10 travel).
Standard 2 Hour Party Package. 
Base Price = £150 for up to 15 children, £160 for up to 30 children.
(We can do more children but the structure of the party changes slightly) This is hosted by one entertainer who comes to your location bringing with them all the equipment for the party including music system. For the first 15 minutes as the guests arrive they will mingle giving each child a hand stamp or a little glitter if wanted. Music will be played as background music. This is followed by 45 minutes – 1 hour of dancing, games, singing, activities etc. This includes sweets for prizes, pass parcel (2 x pass parcels if over 15 children to go around simultaneously), lots of props, suitable music – themed if applicable, and a fun bubbly entertainer! The party can be themed with the entertainer in costume. Popular themes include:- Pirate, Princess, Fairy, Power Ranger, Superhero, Mermaid, Jedi, plus more! All of the music and game are age and gender appropriate and we are flexible throughout the party as to what is working well with the particular birthday child and guests. These parties are most popular with ages 3 – 8. Please see our
Parties
Page for a more detailed description.
Teen / Tween Party
Base Price £160 for up to 30 guests.
Too old for bumps and pass the parcel!? Our DJ will play some great tunes, with prizes to be won, dance offs and more age appropriate games! We can also include a balloon workshop if under 30 children where they can learn to make their own balloon model!
Balloon Modelling
£110 for the first hour and the £50 an hour after that.
We can create some wonderful balloons for all of your guests. We suggest for a nice balloon for each child to be around 12 – 15 children per hour. These work great at parties, christenings, weddings, festivals and many more events! See our
balloon
page for lots of pictures!
Princess / Superhero Character Appearance.
Base Price £110.
Your very special guest will arrive at your party to pose for photos, mingle with the guests and bring a very special birthday balloon model for the birthday child. They will also give a hand stamp for each child and a few props. The are a guest at the party rather than a host and although they can organise a few games and plug their mp3 player into your sound system for specific dances, they will not have a microphone. This works well if you already have other things going on at your party eg a bouncy castle. Optional extras for this party can be to bring a balloon for each child ( birthday child balloon is included in the price). Eg a balloon sword or wand is £1 per child. Current characters include: Aurora, Elsa, Anna, Belle, Cinderella, Jedi, Stormtrooper, Spiderman, Batman, Superman, Fireman, Mermaid, Power Ranger, Fairy.
Midweek Preschool Party
Best Value from £80
For 1 – 3 year olds a small midweek party at home is a special way to mark the occasion. We bring instruments, props, puppets, parachute ( we have varying sizes to fit most spaces), and fun interactive music. The children are also delighted at our special shiny hand stamps! This is our best value party at just £80 for the hour.
Midweek Preschool Balloon Party
1 hour of fun balloon modelling with a special balloon for the birthday child and a fun design for all of theior friends! Suitable for up to 12 children. If less children we can also include a 'make your own balloon dog or sword' workshop which the children love their parents getting involved with! We can also include a singalong and dances at the end if time depending on numbers .
School Disco / Larger Parties
For larger amounts of children and school discos we have various prices depending on time of day and weekday / weekend. Our best value discos would be during school hours midweek which are popular with a lot of schools near to Easter and Christmas so book early! The party consists of lots of games and interaction as well as some props, however we cannot guarantee each child a prize. Please contact us with numbers and requirements for a detailed breakdown as we are usually quite flexible on this.
Optional Extras
Glitter Tattoos
Glitter tattoos are always very popular! These are an extra £1 per child on top of your existing package.
Party Gifts
We are now offering party bag options with our parties! These fun LED glowstick and rainbow glasses are just £2 per child and can be given at the end of the party or used during the second half of the party to incorporate in some of the games! They are really effective in a darkened room and so particularly effective in these darker winter months with our disco parties! The glowsticks have replaceable batteries and flash red green and blue!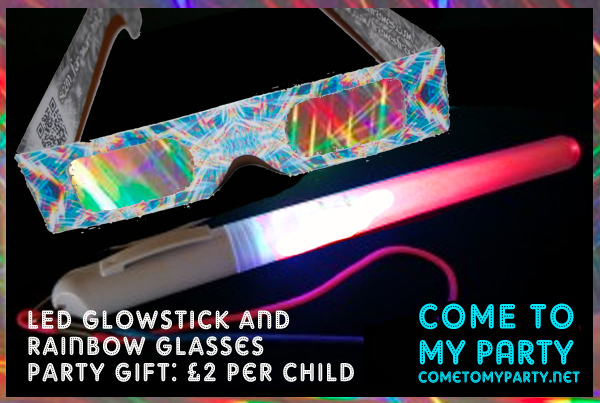 Balloons
These are included in some of our packages, but we can do all sorts of special balloons for that bit extra. Balloon sweetie cups are priced from £4 unfilled or £4.50 filled and make a great alternative to party bags. We can work with your theme – just let us know what you want!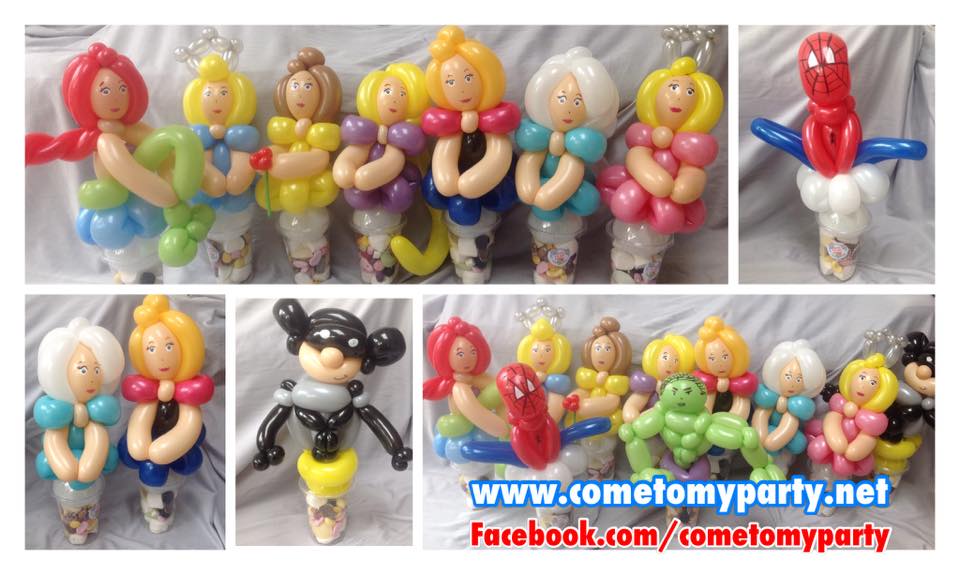 Balloon columns and giant structures really give the wow factor! Let us know your ideas!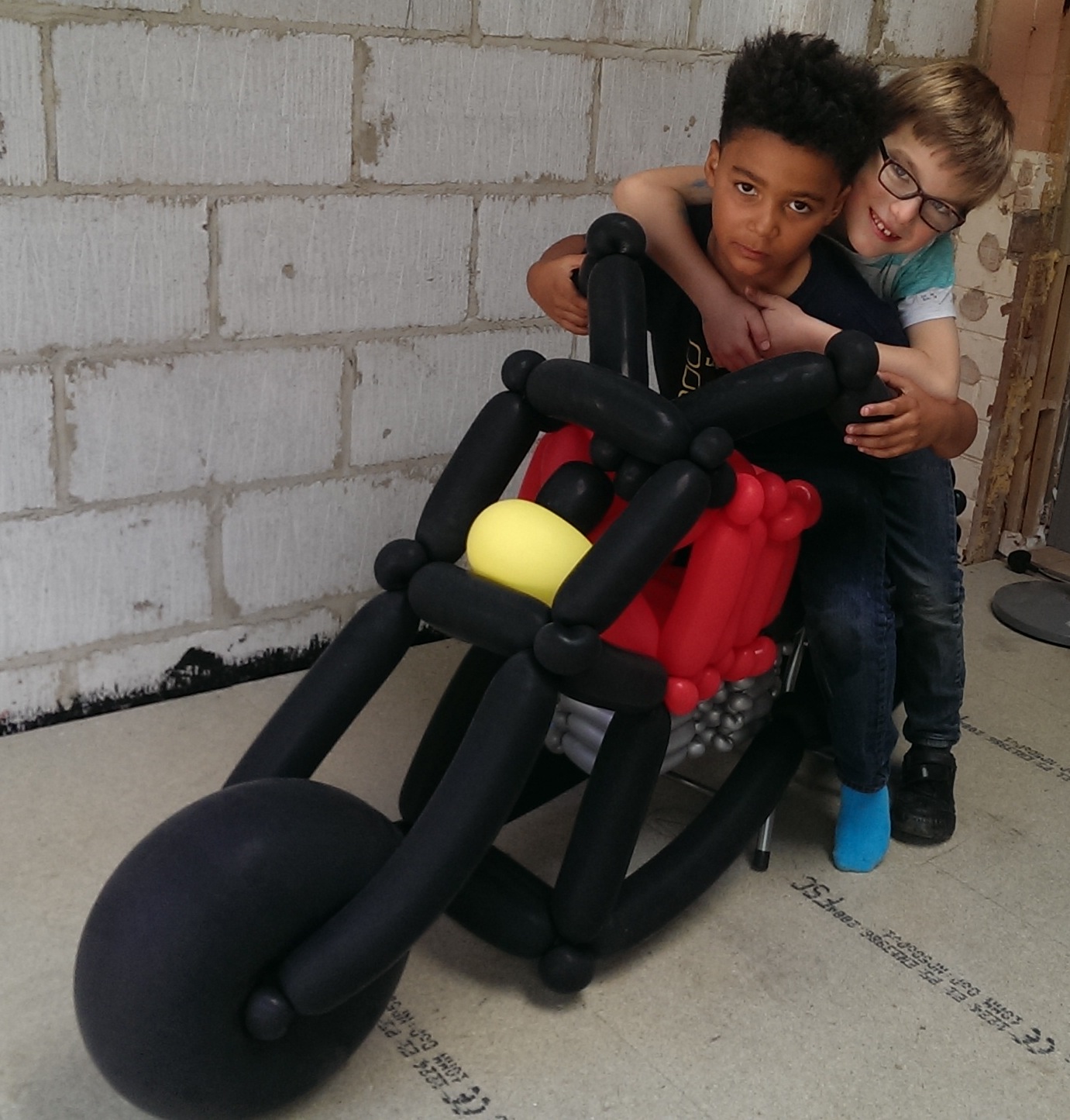 .   
Or our basic balloon models start from £1 per child to give as an alternative to party bags. Let us know what you want!
See our Balloon Gifts Page for lots of photos and more info!
Face painters
Depending on location and availability we have face painters who we work closely with. Please ask us if you wanted to add this to your party and we can then quote.