Children's Party 2 hour Package! (Our best value and most popular!)
Let us take the hard work out of your children's party planning with our great party package!
The Party Plan for our 2 Hour Children's Party Package:
Planning a children's party is always easier with someone to run it  – which is where we come in! We arrange all of the fun and entertainment leaving you to enjoy the fun!
The Arrival
Your entertainer arrives 30 minutes before the start and introduces herself to the birthday child before setting up equipment with a music system and lights.
Your entertainer will wear bright party clothes suitable for dancing and entertaining and is very well presented. Our party hosts do not wear character costume as we have found long ball gowns, mermaid tails and masks etc to get in the way with the entertainment! If you have a theme though we will try to reflect this in the entertaner's clothes (we have lots of printed dresses and tshirts to suit many themes!) as well as the entertainment.
The Party!
The fun continues when we launch into lots of fun with dancing and games, and  lots of props!
As your guests arrive at the start of the party for the first 5 – 10 minutes we will offer them hand stamp / ink tattoo suitable to the theme of your party with designs that appeal to all genders. We will also offer glitter gel ( chunky festival style biodegradable glitter in aloe vera gel) for their cheeks. This is also a great opportunity for the entertainer to introduce herself to the children and learn names!
When most guests have arrived we will then start the more structured entertainment with 45 minutes / an hour of fun party dances and games with different props and prizes!
With bubbles, colourful scarves and lots of games themed to your party your room will be filled with colour and smiling faces!   Prizes are provided for the games and there are non gelatin options for the sweets – we are also happy to discuss any dietary requests.  The games and music are all themed as much or as little as wanted with requests in advance welcome and it is always tailored to the guests so both age and gender appropriate.
Food Break
After around just over an hour your guests will have worked up an appetite for food!  During food time your entertainer will mingle and chat to the guests and help out where needed. She can also present the cake and get everyone singing Happy Birthday to the little star of the show!
Your entertainer will then use the opportunity to gather everyone for you to take some photos to capture the memories of your child and her friends with their host!
Magic Show!
After the food it is time for more fun with a fantastic magic show! We can tailor some of the tricks to your theme if you have one, and the fun interactive style will have everyone shouting, cheering, and laughing, as well as truly amazed!
Finishing Up
The magic show ends with the birthday child being presented with their special balloon gift and a final bubble popping game! This is also enhanced with balloon wands or balloon swords which may be added on to your package if wanted from 50p per child
Extras
It is nice to add balloon wands or swords to your package as these are great fun for the bubble popping game at the end. From 50p per child as a special rate for the parties ( usually £1 per sword and £1.50 per wand).
A balloon gift is included for the birthday child. If there are multiple birthday children it is an extra £10 per child.
We also have some great party extras such as bespoke balloon decorations, party bag gifts and lots more. Please see our party extras page for more info on this.
Great fun for all!
The party is suitable for both girls and boys – we tailor the party very much to the guests and the party is very adaptable depending on what the children are enjoying.
No two parties are ever the same and are very much customised to your child and friends!   We try to make sure all of the children are as engaged and involved as possible!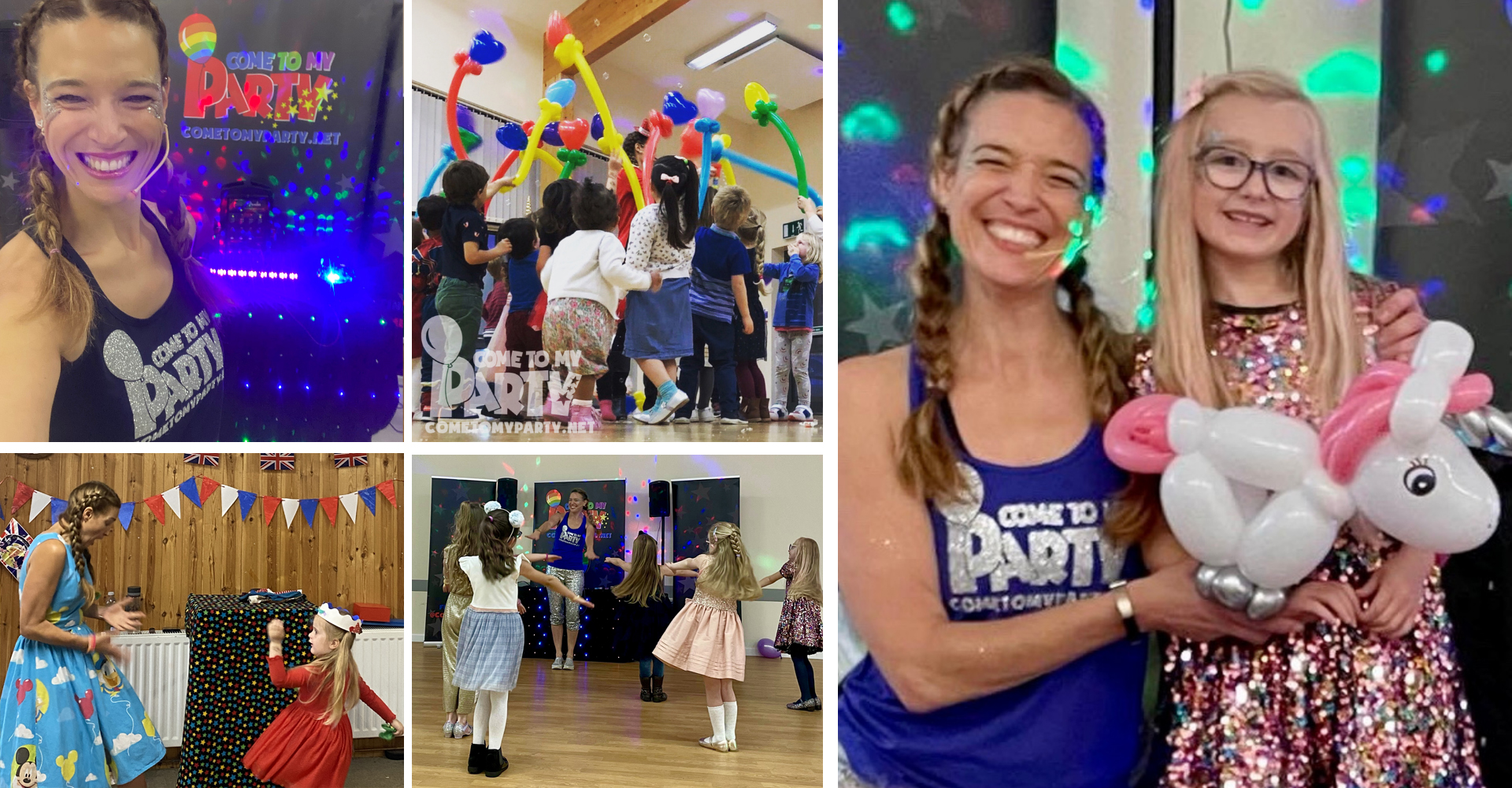 A quick rundown:-
1 Entertainer from £240 (up to 35 children). (More children is doable however this will alter the format slightly as some of the props activities may not be suitable with more).
Entertainer arrives to introduce herself and to set up lights and music 30 minutes before the party start time.
Glitter for cheeks, and ink stamp / tattoo for each child
Games
Props (Scarves, toys, Parachute etc)
Dancing!
Prizes!
Magic Show
Photo opportunities
Balloon gift and presentation
Optional add-ons – 
Balloon swords or wands – from 50p per child (great fun for the bubble popping game at the end plus a nice keepsake)
Various balloon decor and party bags.
If you are interested in booking a party please get in touch using the form below.
To get the most accurate quote please state your postcode, the date of the party, the number of children you are expecting, the child's age, and what you would like included. This will enable us to give you the most accurate price.