We have performed at festivals all over the UK!
We have various different presentations and shows depending on whether you are after a full performance or something more interactive!
Our entertainment packages depend on whether you want a show or sideshow –  we love keeping it fresh and fun and tailoring the entertainment to your specific dynamic! Please click on each package for more info.
Some of the Festivals we have performed at include:-
Latitude; Cornbury; Camp Bestival; Bluedot; Standon Calling; Wychwood; and many more!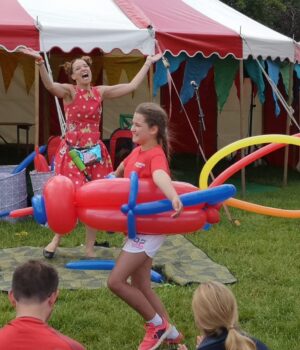 The Big Balloon Show!
This great fun show is suitable for the whole family and encourages lots of volunteers in balloon based antics! The show reaches it's peak with a massive 6 foot balloon which Kerry ends up actually inside!!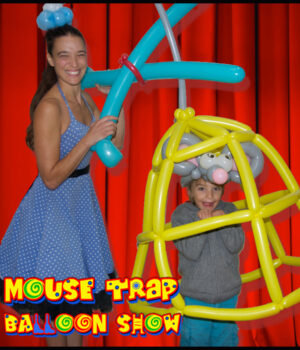 Our newest and most exciting new package is The Mouse Trap Balloon Show which is a fun science and mechanics based performance using balloons to demonstrate simple machines. This highly entertaining show both educates and entertains with great involvement from the audience. You can find out more on this show at the MOUSE TRAP BALLOON SHOW page!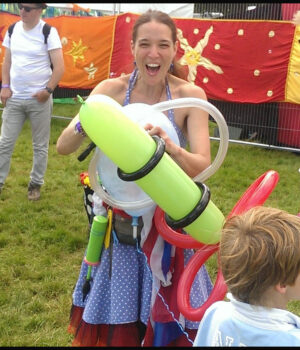 Walkabout Balloon Twisting is a great sideshow to your kids field! It has been our most popular at festivals over the last few years and gets really booked up at summer events! We specialise in wearable balloon designs which are ideal for an outdoor environment, and kids love being made into butterflies, aeroplanes, helicopters, horse riders, insects and jetpack fliers!! We also make all the usual animals as well as princesses, superheros, dinosaurs, cars and loads more! See more of our festival balloons at our FESTIVAL PICS page.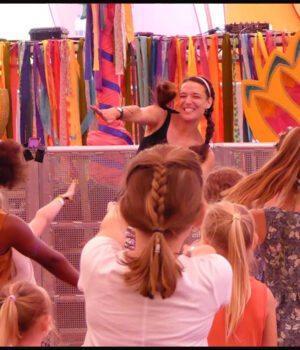 Our Dancing and Games Party Hour brings a party to any time of day! It is ideal as a Wake Up and Shake Up kick starter to a morning , or just as a fun interactive hour entertaining and engaging and getting everyone up and moving! A mixture of party dances, props for up to 150, popular favourites and some fun and funky moves. It is guaranteed to get everyone up and moving! Younger children are always delighted to receive a hand stamp at the end to show how awesome they were! See some of the dancing and games in action on our FESTIVAL PICS page!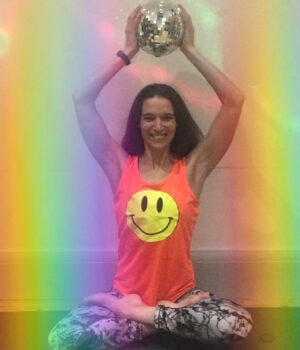 Disco Yoga!
Disco Yoga is a Yoga and Pilates inspired workout to some serious disco grooves!! Stretch and tone as you sing along to the sounds of the 70s and 80s and add some sparkle to your workout! Great as a morning Festival activity or for any time of day!!! Get your dose of Zen with a side of Nolans!