Frozen Parties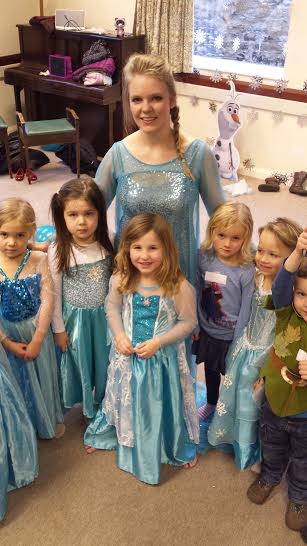 If your little Anna or Elsa just can't 'Let It Go' and you are looking for a Frozen Party then you have come to the right place!
Let out very own Princess Elsa or Anna host your party! Ice glitter straight from the North Mountain will be offered to the children as they arrive before an hour of dancing and Frozen related games featuring music from the Frozen soundtrack. Lots of props are provided as well as pass parcel, sweets for prizes and Frozen themed games.
Please see our Prices page for a quote
"Hi Kerry, Just wanted to say thank you once again for such a fab party yesterday, all the children loved it! When I asked Holly what her favourite thing about the party was, she said 'Princess Anna'!
I had a message from one of the mums this morning which said 'I didn't realise it was possible to be even more enthusiastic about Frozen, but it is!' I think her little girl really enjoyed herself! So, thank you once again!
We shall recommend you wholeheartedly"  Cheryl

Hi Kerry I've been meaning to email you ever since D's party to say how brilliant Georgia was. D got a bit overwhelmed by things and sat part of the party out (typical!) but she was mesmerised by it all and her friends all had a brilliant time. The mum's loved it too and got involved with a bit of singing and dancing. Georgia was fantastic with the kids, the games were pitched just right and everyone loved all the Frozen theming and music. I wanted to let you know how impressed I was. The feedback from all the mums was wonderful with everyone saying what a brilliant time they and their children had had. The sweetest moment came at the end when Georgia was saying her goodbyes and one of the girls came up to her and said, "Elsa, would you like to come upstairs and play with me?" They were so captivated her, their belief that she really was Elsa was adorable! Anyway, a big thank you for your part in the organisation of everything. Please do pass on my comments to Georgia who really was lovely. Top marks. I will certainly be recommending you to others!" Kate
Optional Extras include
Snow Globe Making,
Glitter tattoos – Snowflake and Elsa designs will keep the children delighted. They are hand stencilled on and very effective. Other designs are available also.
Balloons – Each child can take home a special balloon.
Balloon gift for the birthday child – starting from £5 for a large deluxe balloon of Elsa or £15 for the table top display pictured.
Please see the balloon gifts page for more info.